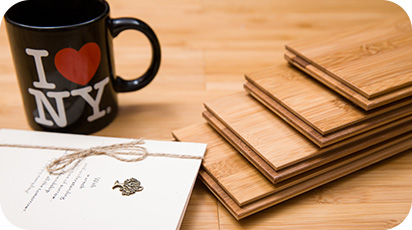 Bamboo Flooring
Bamboo is a grass. Bamboo floor is an eco-friendly and environmental flooring. Bamboo floor brings you a new idea to make real green choice.
Bamboo floor has a very wide varieties, including solid, engineered, strand woven, click, click strand, heating, decking, industrial and flooring accessories.
Bamboo Flooring Color
Bamboo floors have natural, carbonized and tiger color, also can be stained in various colors, like maple, teak, red oak, mohagny etc.
Bamboo Flooring Structure or Grain
Bamboo flooring has horizontal or flat pressed, vertical side pressed and strand woven. Strand woven has higher density than horizontal or vertical.
​Bamboo Flooring Features​
​
Eco friendly, beautiful flooring
Bamboo flooring is extremely hard, durable and dent-resistant, bamboo flooring is healthy and eco-friendly. Bamboo floor has an appealing and unique look, capturing the natural beauty of bamboo.
Bamboo is a grass, not hardwood
Bamboo is the fastest growing plant. Bamboo is actually considered a grass because bamboo can be re-harvested every 3-5 years. Bamboo is green, strong and elegant. Bamboo is subtle material for flooring, veneer, plywood.
Easy to buy, nice for home
Bamboo floors are an environmentally flooring for home, hotel and store. Bamboo flooring is becoming a popular choice for all kinds of customers who realize its benefits. Bamboo grows mainly in China but can be easily purchased in North America and Europe.
High density, healthy
Bamboo floor has high density and low formaldehyde emission. Density of bamboo floors is 750 kg/m3 and formaldehyde emission of bamboo flooring is only 0.015 mg/m3.
Bamboo Flooring Introduction
​
Bamboo flooring is through an amazing manufacturing process from raw bamboo trees to bamboo floor. It changes people's bamboo knowledge completely. Harvesting bamboo stalks, cutting, slicing into bamboo strips, boiling and carbonizing to remove sugar, drying, pressing strips into flooring plank, milling and finishing.
Bamboo is very versatile for producing different grain and color options bamboo floors. This versatility is better than any hardwoods which is always with a fixed dimension. Prefinished bamboo floors with tongue and groove keep costs much down and simple installation. Durability of bamboo floors is equal to or even higher than most of hardwood species, 25% harder than oak or maple.
Bamboo floor is a beautiful and exotic alternative floors for hardwoods. Bamboo floors are the best choice for environmentally and healthy flooring in the world because of its raw material - bamboo which is regarded as a grass, not a wood. Bamboo floor is developed over 20 years and it has been a very mature product, very stable and consistent quality flooring. Bamboo floors are widely popular over the countries, from western world to developing countries.