BothBest's Product:
Wood Plastic Composite
Wood plastic composite is a new class of composite materials in recent years. It is made of by using of polyethylene, polypropylene and polyvinyl chloride, etc. to replace the usual resin adhesive, mixed with 35% -70% of wood power, rice husk, straw and other wasted wood fibers to make this new material. Then by extrusion, molding, injection molding and other plastics processing, wood plastic composite is produced out with different profiles.
Wood Plastic Composite Material Advantages:
Water-proof and moisture-proof: WPC is the fundamental solution for the decay, expansion and deformation problems of the wood which was used in high moisture or wet places. It can be used in some places which traditional wood can't be applied.
Pest control, termite-resistance: WPC is not decayed by insects and it extended its life significantly than regular wood.
Various colors: Many colors are available to choose from. Wood plastic composite has natural wood feeling and wood texture, and color can be customized according to their individual needs.
Flexibility: Wood plastic composite can simply realize personal style with its flexible structure.
Environmental, no pollution, recyclable: Wood plastic composite does not contain benzene, the formaldehyde emission content is only 0.2 mg / m3, lower than the E0 standard which is environmental standards for the European classification. Recycle can save the use of wood; it is a kind of sustainable business for the world.
Fire resistance: Wood plastic composite retards flame, fire rating is B1 level, fire extinguishing, does not produce any toxic gases.
Processing: Wood plastic composite can be nailed, planed, sawn, drilled and the surface can be painted.
Easy installation: Convenient construction processing, saving installation time and costs. Wood plastic composite is no repair and maintenance, easy to clean.
High stability: Wood plastic composite does not crack, no swelling, no distortion.
Sound-absorbing, energy efficiency: Indoor energy-saving is up to 30%.
Wood Plastic Composite Usage:
Wood plastic composite can be used for landscaping, interior and exterior decoration, flooring, guardrail, flower pot, pavilions. Wood plastic composite does not require secondary processing (such as veneer, transfer, paint, etc.), and has a natural wood texture. Decking: including platforms, road boards and site pad.
In addition to decking, there are wall panels, ceiling, decorative panels, running boards, siding, highway noise barrier, beach shop flooring, building templates, building templates, moisture-proof board. In addition, wood plastic composite is also for decorative borders, fences and garden handrails, combination plate and tray packaging, and furniture (including outdoor open-air tables and chairs), the ship cockpit partitions, office partitions, storage boxes, flower boxes, activity racks, blinds, etc.
For WPC Decking, please kindly vist: WPC Decking
For WPC Flooring, please kindly vist: WPC Flooring
For WPC Wall Panel, please kindly vist: WPC Wall Panel
For WPC Flower Pot, please kindly vist: WPC Flower Pot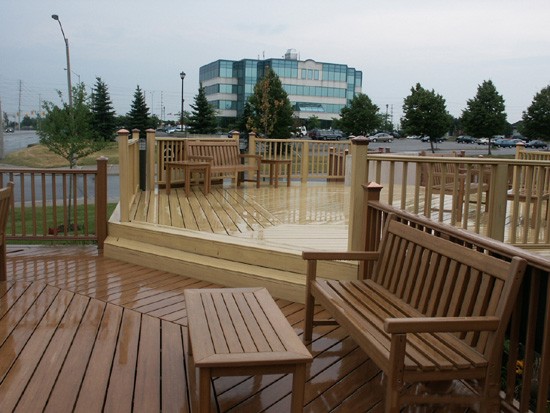 Wood plastic composite - outdoor decking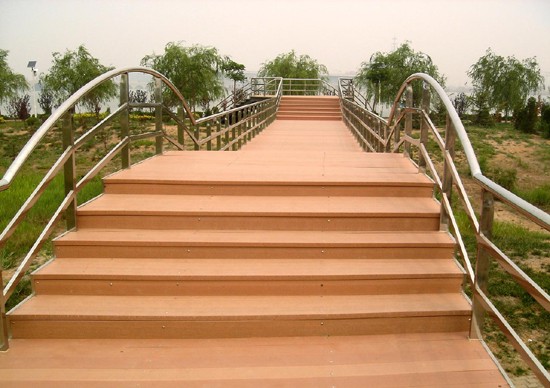 Wood plastic composite - outdoor decking