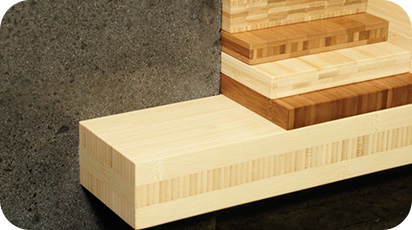 Bamboo Panel
Bamboo panel is a new choice for making custom-sized and formaldehyde free furniture, like cabinet, kitchen countertop, shelf, bamboo door etc.
Bamboo Veneer
Bamboo veneer is eco friendly, environmentally and green veneer rather than any wood veneer species, idea material for covering the furniture, wall decoration and longboard, skateboard.
Other Bamboo Panel Products
Bamboo is an amazing material for producing the products to replace regular wood, like bamboo mosaic, bamboo rug, bamboo door, bamboo kitchen countertop.
Bamboo Panels Introduction
Bamboo panel is made from 100 percent rapidly renewable bamboo, using adhesives that are both strong and emissions free. Bamboo panel consists of multiple layers of bamboo, where the middle layer can be either horizontal or vertical grain. These bamboo panel are especially interesting in those applications where the side of panel remains visible, like steps of a staircase and kitchen work tops.
Bamboo panels are widely applied in the furniture production and decoration projects, not only its environmental advantage, but also versatility. Bamboo panels have very wide range of dimensions - versatile of thickness, length and width. Bamboo panels can be produced with customized sizes.
Bamboo is actually 25% harder than maple, making it a superior material for furniture. Bamboo holds the promise of a sustainable cost effective and ecologically responsible alternative to the wide spread clear cutting of our world's forests.