Engineered Flooring vs Laminate Flooring
Engineered hardwood flooring has advantages of beautiful, natural, comfortable, good thermal insulation; and overcome the warped cracks of hardwood flooring. Now in order to survive the environment does not deteriorate, countries in the world pay attention to the protection of forest resources, engineered hardwood flooring is better than solid wood flooring save the resources. In addition, engineered hardwood flooring is easy to install, no need of subfloor.
Engineered hardwood flooring can be divided into 2 different categories - 3 ply and multi-ply.
3 Ply: 3-Ply engineered hardwood flooring is produced by 3 layers of hardwood with cross laminated. Top layer is regular hardwood species like ash, birch, beech, oak, maple, cherry and so on. The core is Chinese poplar and the bottom is sliced veneer. This structure can effectively adjust the internal stress of the wood and improved wood humidity changes with the seasons.
Multi-ply: Multi-ply engineered hardwood flooring is pressed in 2 layers. Face layer is wood species; bottom is multi ply board with high stability and better price.
Engineered hardwood flooring advantages:
Beautiful, Natural

Face layer of engineered hardwood flooring is solid wood in 4mm so it has the advantages of wood flooring. It is beautiful, natural and various species for chosen.

Stability

With 3 layers or multi ply board, engineered hardwood flooring has very high stability. It is the best flooring for heating installation without any cracking, swelling or shrinking problems.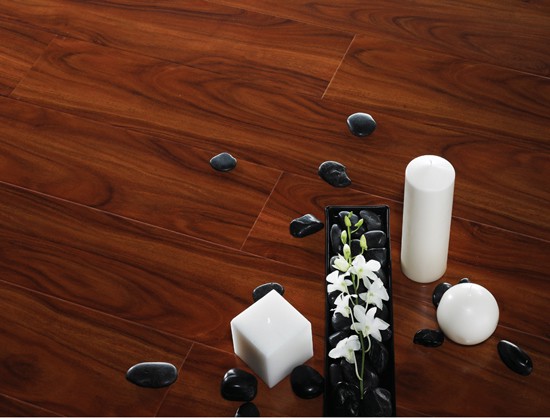 Laminate flooring is pressed in various layers, top layer is wear-resistant, anti-scratch paper, core is MDF, and bottom is balance sheet. The quality of paper will decide the life of laminate flooring. The quality of core will bring you eco-friendly flooring or toxic flooring because the VOC of MDF can be low or less, up to the quality control.
Cheap price

Laminate flooring has best advantage - cheap price. Raw materials cost is pretty low than wood and bamboo. The capacity is limitless and wood is in shortage in most of countries, price is slightly increasing day by day. Large capacity can reduce the cost extremely and many computerized machines are involved into the production, so workers can be reduced as well. MDF is produced from fast-growing wood species which can be harvested for production in 1-2 years.

Price is cheap but quality is not bad because wear-resistant and anti-scratch paper can be used for 3-5 years without any damage.

Easy maintenance

With cheap price, laminate flooring is widely installed in many commercial areas, like hotel, restaurant, shopping mall which have very high degree of traffic. When flooring is broken, it can be replaced easily and totally without spending so much of cost as wood flooring or bamboo flooring.
Laminate flooring is very easy for maintenance, just cleaning the dust, no need of wax, oil. It is very good flooring for do-it-yourself installation. Laminate flooring will not fade after years, even in direct sunlight. Laminate flooring is most scratch-resistant, hard-wearing and cost-effective flooring.
But, laminate flooring has bad foot-feeling than engineered flooring and less green because of its materials. Laminate flooring can be refinished like engineered wood.