BothBest's Product:
Bamboo Bathroom Tile Flooring
In bath, ceramic tile is always first and popular bathroom flooring option because of its various colors, sizes, patterns. For environmentally conscious homeowners looking for a green bathroom flooring option, you can't do much better than bamboo because of naturally harder and more durable.
Bamboo bathroom tile is made of eco friendly material - moso bamboo. Bamboo tile is not same as ceramic or stone in your bathroom, but really fantastic, amazing and ideal option for your bath because bamboo is a natural materials, it is a fast growing sustainable grass, not a wood or ceramic or stone.
Bamboo bathroom tile is composed from strand woven bamboo flooring with plastic platform. Strand woven bamboo has 1100 kg / m3 density which is much harder than oak, maple. Strand woven bamboo is one of best material for exterior and outdoor. Bamboo decking is being used in garden and park for years because of its long lasting, no moldy, no splitting.
We use same material as decking to produce this bathroom tile because there are a lot of water inside of your bath. The tile must have very consistent top quality, not cracking or swelling after a few weeks or months. We only choose best material and good plastic platform to make the best bamboo bathroom tile.
Bamboo bathroom tile size: 300 x 300 x 15/27mm
Bamboo slat size: 300 x 15 x 14mm
Bathroom is always wet, regular flooring can't be used because flooring can get swollen after weeks. Bamboo tile is perfect solution for wet area, like bath, garden, swimming pool, sauna room, because the material for producing tile is water proof and anti-moldy and never swelling. Bamboo bathroom tile is an eco-friendly option and brings a natural feel into the bathroom along with a very contemporary feel.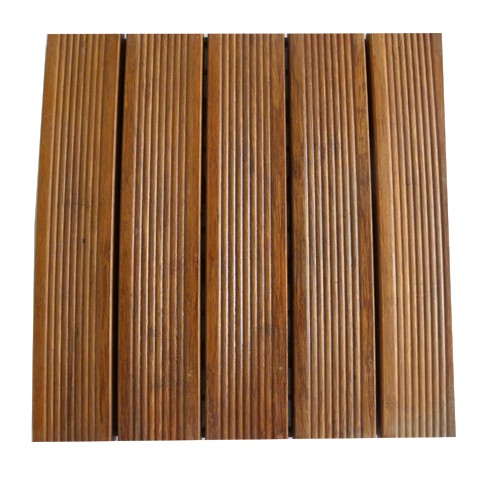 Bamboo Bathroom Tile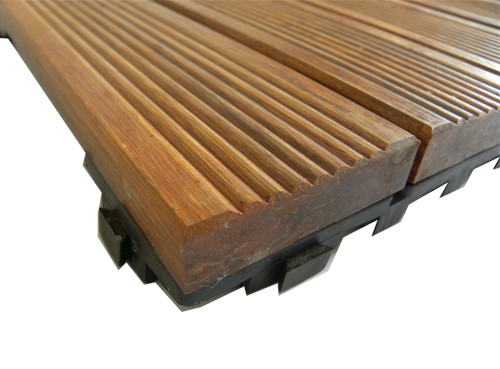 Bamboo Bathroom Tile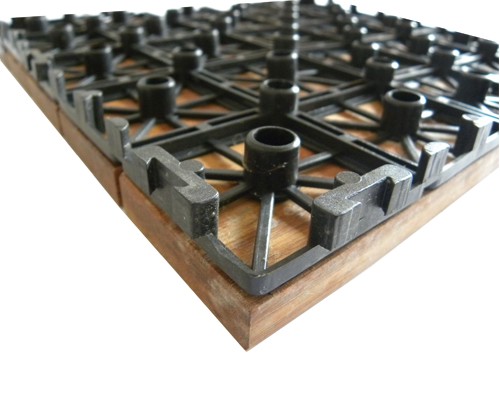 Bamboo Bathroom Tile - Plastic Platform Backing