Bamboo Flooring Durability
Bamboo flooring is widely sold all over the world because it is a pure green floors than any other hardwood. Another great advantage is its high durability and stability. Many people doubt why bamboo floors are durable? Bamboo is a grass, it is very soft and thin, how can bamboo floors be durable?
Bamboo floor durability is not decided by its original bamboo stalk. Bamboo is cut into strips and laminated into floor planks. This laminated bamboo plank has very high density than most of hardwood species. Durability has no fixed testing data to prove, but durability is much related with hardness and density. Solid bamboo is 1878 in horizontal and 1999 in vertical. Strand woven bamboo is 4570.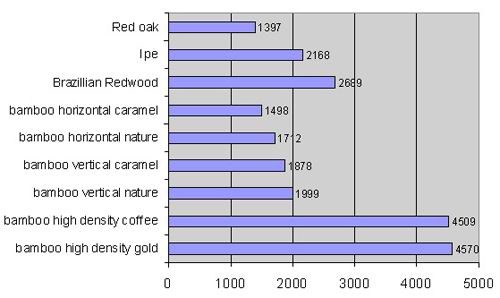 Hardness Between Bamboo With Wood Species
Janka score is another proof for the durability. Bamboo has so high Janka score which is higher than most of wood species, like oak, ash, pine. Solid bamboo is 6.5 and strand woven bamboo is 15.3 which is very high Janka core than all regular hardwoods.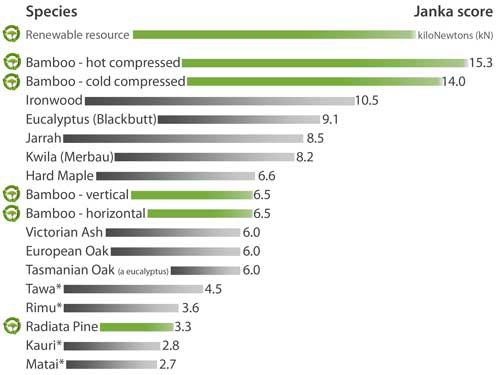 Janka Score Between Bamboo With Wood Species
The other issue in durability of bamboo flooring is strandwoven with horizontal/vertical. Strand woven bamboo is very special bamboo and we called it Most Durable Bamboo Flooring, actually, you can find its hardness and Janka very high. Horizontal and vertical bamboo flooring are regular bamboo and standard durability. Strand woven are super durability.
Applied coating is very important to provide high durability for bamboo floors. Bothbest only applies anti-scratch and wear-resistant top coat for bamboo floors. We applied 2 layers of top coat to make bamboo floors durable enough for both residential and commercial installation. Coating without anti-scratch will be soft and easily damaged.
As bamboo floors are so hard, bothbest is very confident with its durability and offers the lifetime structural warranty and 20 years warranty for residential and 10 years warranty for commercial. You can choose bamboo flooring without any doubt on the durability. Bamboo flooring is recognized as good flooring option, not only it is green building material, but also it is high and consistent quality, without durability, good quality doesn't exist.