Bamboo Flooring Company From China
History of bamboo flooring in China is not so long, only 20 years, started from the late of 1980s early of 1990s China began the development, production of bamboo flooring. In the beginning, it was small-scale production, a single product, production technology is not mature enough. Some of customers got hurt from the bad quality of bamboo flooring, for example, Elephant Bambusparkett from Germany was almost bankrupt due to really worse quality.
Bamboo flooring capacity grow up since 1998, technology was becoming mature. Some companies have begun exporting the product. In production process, it is divided into 3 parts. Raw bamboo processing, like harvesting bamboo, cutting bamboo and drying bamboo; Pressing bamboo flooring block, like color matching, gluing and pressing; Tongue and Groove process, like sanding, tongue and groove, coating. This new process reduced costs effectively, increased productivity, improved product quality. Bamboo flooring machines are getting more and more advanced and computerized machines come out.
Currently there are about 200 bamboo flooring manufacturers in China. In 2006, production capacity has exceeded 30 million square meters per year, and got increasing in recent years, the development of the whole bamboo product is facing a good opportunity.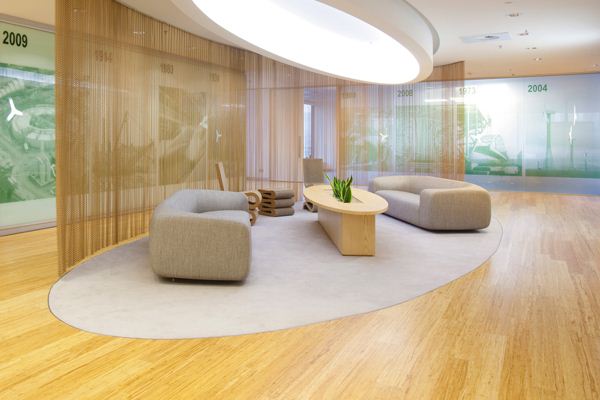 Now bamboo flooring has a very mature process technology. In 2002, China bamboo flooring production has reached 400 million square meters, with domestic demand growth, production of bamboo flooring has been into a stage of rapid development. At present, there are about 100 a-certain-capacity bamboo flooring manufacturers in China, mainly in Zhejiang, Hunan, Fujian, Jiangsu, Jiangxi, Anhui and other bamboo producing provinces. Those factories had imported new machines from Germany, Italy, Taiwan, like Homag from Germany, coating line from Italy, also importing the adhesive and coating to make highest quality of bamboo flooring. The new machines and high quality of glue and lacquer can ensure high precision and stable quality.
Production of bamboo flooring in 2005 has reached more than 30 million square meters, and various colors come out. Bamboo flooring production and sales in 2005 accounted about 10% for total sales volume of China's wood flooring, of which exports accounted for 60% of total production of bamboo flooring.
Bamboo flooring manufactured in China has been exported into 100 countries, mainly in Europe, like Germany, France, Italy, Norway, Belgium, Holland, Spain, Portugal; America, USA, Canada; Australia. Now, south America is new market, like Brazil, Argentina, Panama, Columbia. Their market grows up fast and needs a lot of bamboo flooring.