Bamboo Flooring Manufacturer
Bamboo flooring manufacturer in China has very different quality control and marketing. Domestic market of bamboo flooring is huge and consistent growing. In the beginning, bamboo flooring manufacturers are all producing and exporting bamboo flooring to overseas market, like Europe, America, Australia and Africa. In 1990s, domestic market was very small and few people heard about bamboo flooring, and very few of people saw bamboo flooring in real.
So, bamboo flooring's best market is overseas because western countries like bamboo same as they are like Chinese culture, bamboo is a kind of ancient Chinese culture. Also, bamboo is really eco friendly, environmentally material than any other hardwood. Bamboo flooring is not such expensive as hardwood. Overseas market grows fast in past 20 years, specially North America, Homedepot, Target, Lowes, Walmart, they are selling bamboo flooring hundreds of containers per month.
Bamboo flooring manufactures located in Zhejiang, Anhui are exporting a lot of bamboo flooring and they occupied the overseas market. Bamboo flooring manufacturers located in Jiangxi, Hunan make the sales in domestic market. Factories in Zhejiang and Anhui have large capacity, domestic market is not enough for the production. Factories from Jiangxi and Hunan have small capacity, so domestic market is enough for them. Also overseas market has higher quality standard than domestic.
Currently there are about 200 bamboo flooring manufacturers in China. In 2006, production capacity has exceeded 30 million square meters per year, and got increasing in recent years, the development of the whole bamboo product is facing a good opportunity.
Bamboo is like a hardwood, but is not a wood at all. As a hollow-grass, it is considered a renewable resource because it grows rapidly, replenishing itself. Bamboo can reach maturity in 5-6 years, growing to 80 feet in height. Considered environmentally friendly, many people are taking a whole new look at bamboo flooring and want to know how bamboo flooring is manufactured. It must be an amazing process to bring bamboo to flooring; it is almost like a transformer.
This photo explains very well the whole process from bamboo tree to a bamboo flooring piece.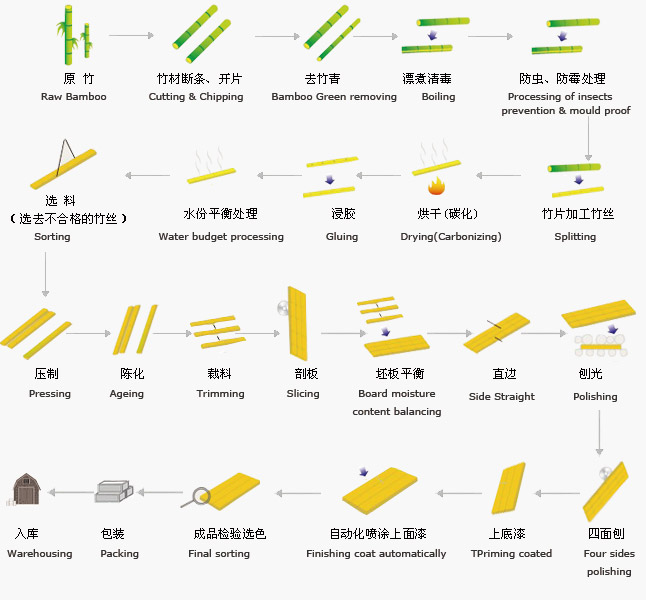 Bamboo Flooring Manufacturing Process Photo