Bamboo Flooring Australia - Perth, Melbourne, Sydney, Brisbane
In the world, only Australia has Kangaroo, not in other countries, you know why? Because Australia protects the environment very well and the Customs required all the goods coming into the Australia have to be fumigated to kill the insects, worms. Bamboo flooring in Australia has increased significantly in past 10 years. Australia is a western country and people like green, eco friendly and environmentally flooring. Bamboo flooring is one of their favorite choice because bamboo is a renewable resource and cost of bamboo flooring is very suitable for most of families.
In Australia, bamboo flooring is promoted widely in a few cities. Perth is west of Australia. Melbourne and Sydney are central of Australia. Brisbane is east of Australia. Solid bamboo flooring is popular in 3 years ago, but now strand woven bamboo flooring is getting very popular because of the promotion of style limited. Strand woven bamboo flooring has very high density and hardness, much harder than most of hardwood. This makes people switch their decision from solid bamboo flooring to strand woven bamboo flooring.
Perth is the capital and largest city of the Australian state of Western Australia and the fourth most populous city in Australia. The Perth metropolitan area has an estimated population of almost 1.7 million. Fremantle is the port of Perth which has direct boats from Shanghai, China, very convenient for the shipment. People just wait for 2-3 weeks after placing the order to get the bamboo. If you live in Perth, please buy directly from Bothbest.
Melbourne is the capital and most populous city in the state of Victoria, and the second most populous city in Australia. The Melbourne City Centre is the hub of the greater geographical area with an approximate population of four million.
Sydney is the largest and most populous city in Australia and the state capital of New South Wales. Sydney is located on Australia's south-east coast of the Tasman Sea. Inhabitants of Sydney are called Sydneysiders, comprising a cosmopolitan and international population of people from numerous places around the world. Sydney has a population of 4.6 million.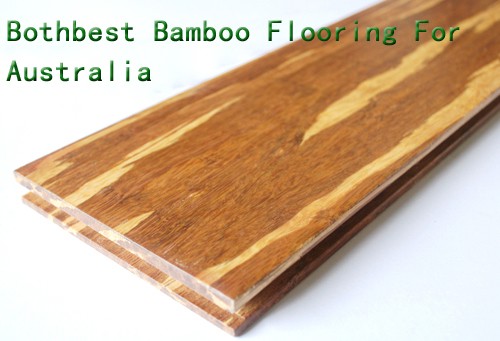 Bamboo flooring in Australia has a very important factor which is moisture content. In the factory, bamboo flooring is controlled to 10% for MC. In Australia, moisture is 16% average, this is very suitable for bamboo flooring to be installed without any swearing or shrinking. If moisture content is too high, bamboo flooring will swear; or moisture content is too low, bamboo flooring will shrink. Both swear and shrink will damage bamboo flooring.
Bamboo flooring in Australia is well promoted in some major cities, like Perth, Melbourne, Sydney, Adelaide. Because bamboo flooring can be loaded in the container and be shipped to those cities directly by boat without any transferring. Direct shipment can save time and cost. For inland of Australia, retailers always distribute the brand from those cities.
Australia is nice not because they are industrialized but they do take care of environment protection. Bamboo is regarded as a green and eco friendly plant by all the people around the world. Bamboo flooring is the right flooring which Australia people are looking for and it is the reason bamboo flooring is coming so popular in the market.