Choose Bamboo Floor Tips
Bamboo floor was produced out since 1990's and people like it so much because it has so unique, elegant and clean taste than any other floorings. In the market, there are hundreds of brands for bamboo flooring, which one is the best floor for you? Bothbest can't tell you the exact brand but we can give you some simple and typical tips to choose a right flooring for your house.
Original Color
Bamboo floor can be divided into 2 types by its color - original color and stained color. Bamboo floor has much less color variation than solid wood flooring because bamboo growing radius is much smaller than the wood, not severely affected by sunlight, no significant differences Yin and Yang side. Yin side means no sunlight, Yang side means sunlight covering. Bamboo floor is manufactured by fresh bamboo poles with full of bamboo texture and very consistent color, so bamboo floor looks very uniform than wood.
Original color has 2 colors as well - natural color and carbonized. Natural color is the color of bamboo itself, very basic color of bamboo, clear and light. Carbonized color is similar like walnut and it comes from special processing - carbonization i.e. bamboo in a sealed pot with steam, after 1.5 hours, bamboo color changes from natural to carbonized. People still can see bamboo texture in carbonized color.
Stained color is lacquered on original color with different colors like red, black, grey etc. Stained bamboo floor can't see any texture of bamboo.
Most of clients like original color of bamboo floor, simple but clear bamboo texture. It can meet the taste of quiet, natural and beautiful.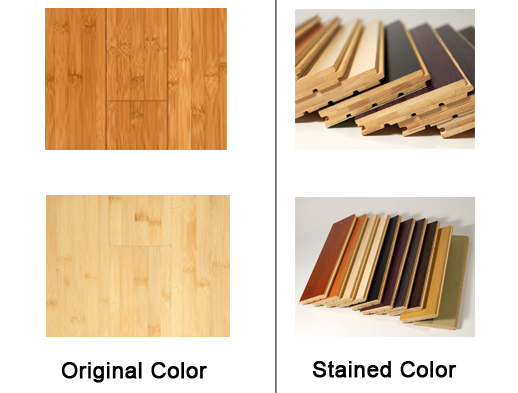 Stable Structure
Bamboo floor need be as much stable as possible to avoid of bending and cupping after long time application in the houses. There are 3 typical structures in the market - horizontal, vertical and cross-section. The most popular is horizontal structure.
Bamboo Age
Many customers think bamboo in bamboo floor should be as older as it can be, like 9 or 10 years. The customer thinks older bamboo is mature enough, so bamboo floor with older bamboo will be more strong. This is a totally wrong idea. The best age for bamboo to produce bamboo floor is 4 to 6 years. Less 4 years, bamboo is too soft, over 9 years, bamboo skin is too thick and it gets very fragile in the production. Too young and too old bamboo both will influence the stability of bamboo floor.
No Big Specification
Bamboo floor is more narrower, has less smaller stress, can be more stable. Therefore the width of the bamboo floor should not be more than 125 mm, the thickness of wear layer should not be more than 4 mm, the total thickness of bamboo floor with no more than 15 mm is appropriate.
8% Moisture Content
There are 2 predators for affecting the stability of bamboo floor which are shrinkage and swelling, choose bamboo flooring must take control of moisture content less than 8%, which will increase the stability of bamboo floor.